Regional Scribes is an opportunity for people aged 18-24 in any stage of their writing and storytelling journeys to overcome the vastness of space and isolation by coming together virtually to meet with like minded peers across the country. The program will run twice over 2022-2023.
To take part in the program, participants must be:
Between the ages of 18-24 years old

Living in a regional or remote area

An Australian citizen or resident for, at least, the period of the program

Have an interest in writing and/or storytelling
Regional Scribes participants get to:
Take part in regular monthly online meet-ups over 4 months

Connect with peers in meaningful ways via phone and the internet

Hear from guest speakers active in their storytelling/writing journey

Receive $500 towards their own professional development

Access materials to support their creative practice
The program is a personal and professional development opportunity, where participants become part of a cohort of storytellers from around the country working in diverse art forms with unique voices. Regional Scribes provides a space to nurture their creative practices through sharing and listening, talks and workshops, group and individual activities. Through this they will not only enhance their skills and confidence, but develop important networks, including professional and personal support networks.
Regional Scribes has been thoughtfully designed to be responsive and flexible to the needs of the cohort. We are committed to providing access for all to the program, offering services and flexibility to make participation for everyone as equitable as possible.
If you have any questions, please don't hesitate to contacted Haneen and Zoya at scribes@regionalarts.com.au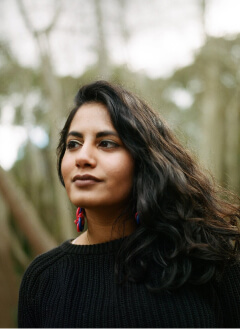 ---
Haneen Mahmood Martin
Northern Territory
Living on Larrakia Country
She/her
Age 30
Writing + storytelling, drawing + prints + textiles, producing + curating, community engagement
---
Haneen Mahmood Martin is a writer, artist and facilitator born in Kuala Lumpur, Malaysia. Now living and working in Garramilla/Darwin, Haneen relocated from Adelaide, drawn to the humidity, familiar produce and joint history between South East Asia and the Top End.
Other current roles in her life include being a Creative Producer with Next Wave (VIC), a Co-Founder of Teh Cha., and a part of the Artistic Leadership Team at Brown's Mart (NT). In 2022, Haneen was nominated as a semi-finalist in the Northern Territory Young Achievers Awards in recognition of her career achievements thus far. In 2021, Haneen was Co-Manager for the National Young Writers' Festival, Producer for Darwin Fringe, and was awarded a Regional Arts Australia Fellowship to write her first manuscript, and a Northern Territory Performing Arts Award. Haneen is also in the final stages of her MFA (Cultural Leadership) at NIDA.
Leading with the mission that we could all be a little bit better if we worked together, Haneen lives for the connections and understanding that food can bring, the shared joy in embracing the beauty of her cultures with her loved ones. All of her work aims to demystify her place in 'Australian' society while also making the arts accessible for those who have been historically excluded, both as artists and audience members.
Her written and visual arts work has been presented nationally through The Guardian, SBS Voices, Frankie Magazine, InDaily, Northern Territory Writers' Festival, the Red Dirt Poetry Festival and many more.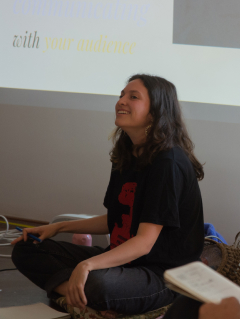 ---
Zoya Godoroja-Prieckaerts
Northern Territory
Living on Arrernte Country
She/her
Age 30
Drawing, installation, textiles and community engagement
---
Zoya Godoroja-Prieckaerts is a practicing Visual Artist and Independent Arts Worker and a first-generation Australian with Russian, Dutch and Canadian roots, based in Mparntwe/Alice Springs.
As an Arts Worker, her mission is to embolden and support others in achieving their goals through methods that are sensitive to their needs, values and capacity. Zoya aims to enable others to reach their potential and operate sustainably. With a focus on community and contemporary arts practices in regional areas, she works with an eclectic range of individuals and groups, from heavy metal music festivals to contemporary experimental dance companies, First Nations social enterprises to local emerging artists.
As an artist with a practice based in drawing, Zoya plays with painting, printmaking, bookmaking, soft sculpture, installation and community engagement. Underpinning her work is a concern with emotion and its capacity to facilitate introspection and change. Informed by personal and collective experiences, she creates intimate anti-patriarchal acts that stimulate contemplation and reflection within both the viewer and herself. Recent highlights include A Portrait of People Caring About Things exhibition at RAFT artspace, It's a bit tricky to visit each other right now artist book, and her very-slow "fashion label", god of roger.