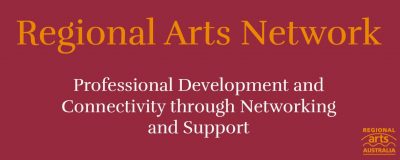 Regional Arts Australia is proud to launch the Regional Arts Network, offering professional development and connectivity through networking and support to regional, remote and rural artists and arts professionals.

The Regional Arts Network will include ongoing opportunities to connect with other artists and professionals around Australia through a diverse range of events, initiatives, programs and webinars. The 2019 programs will be announced shortly.

For previous Regional Arts Network webinars, click here.
Interested in joining the Regional Arts Network? Sign up here.
If you would like to speak with us about the Regional Arts Network, please get in touch.